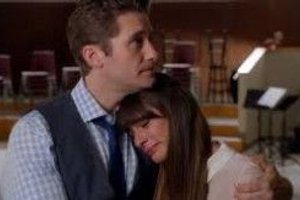 "I hear his voice so clearly…do you think I'll ever forget it?" Rachel asks Mr. Shuester after singing her heartbreaking rendition of "Make You Feel My Love," on Glee's tribute episode to Cory Monteith, "The Quarterback."
Precluding this, the cast sang tributes and reminisced about how Finn had touched all their lives, from usually hardened Sue Sylvester regretting she had ever made fun of this honestly good kid to Santana who admitted that Finn was the first person to see the real her.
Cory Monteith's death was caused by an accidental overdose of a lethal mix of alcohol and heroin. And while this tribute episode was raw and undeniably moving (we dare you to watch it without reaching for the Kleenex), some critics believe that the Fox network missed its opportunity in educating viewers at home about the dangers of drug addiction since the reason for Finn's death wasn't addressed. In the Glee world, we think the tribute episode was perfect. Finn is a fictional character. He didn't have to follow down the same path as the actor who played him. Everybody knows what happened to Cory in real life and that's warning enough. In the Glee universe, celebrating the beloved character Cory played and how he touched the other characters on the show was spot on. We couldn't agree with Kurt, Finn's stepbrother, more when he muses, "Everyone wants to talk about how he died too, but who cares? One moment in his whole life—I care more about how he lived."